"Walkie Talkie Dream Garden" ist ein "Audio Augmented Reality Soundwalk" der Klangkünstlerin Dafna Naphtali, das die historischen Klangumgebungen des Veringkanals in Wilhelmsburg untersucht. Sie wird am Sonntag Mittag um 12 Uhr einen öffentlichen Soundwalk leiten, der die eigens für dieses Projekt erstellte Handy App vorstellt.
Treffpunkt ist am 09.06 und 10.06 um 12 Uhr in der Kaffeeliebe (Am Veringhof 23a, 21107 – Hamburg). Die Künstlerin gibt Unterstützung beim Herunterladen der App für iOS und Android, und schriftliches Material mit Erklärungen liegt vor.
Das Werk wird auch in der Zukunft an dieser Stelle zu hören sein. Ein Enddatum ist nicht vorgesehen.
Technische Anforderungen:
– aufgeladenes Handy (iOS oder Android) mit eingeschalteter GPS Funktion.
– Kopfhörer (In-Ohr ist geschlossenen Kopfhörern vorzuziehen), Kopfhörer Splitter für den Fall dass Sie zu zweit hören wollen.
– Mobilfunkdatenplan, da eine Verbindung zum Server während des Soundwalks nötig ist, um die entsprechenden Klangdaten herunter zu laden.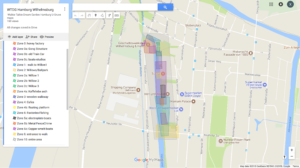 * Funding for Walkie Talkie Dream Garden comes from New York State Council on the Arts with the support of Governor Andrew M. Cuomo and the New York State Legislature, and is sponsored, in part, by the Greater New York Arts Development Fund of the New York City Department of Cultural Affairs, administered by Brooklyn Arts Council (BAC), and the Hamburg Cultural Council.